Bucharest electric city tour by Smart Balance on sb50 electric motobike
Fantanile Urbane / Urban Fountains
Fantanile Urbane din Piata Unirii au fost recunoscute, omologate și publicate drept Cel Mai Lung Șir de Fântâni Coregrafice Sincronizate din Lume, de către Academia Recordurilor Mondiale (World Record Academy). Fantana centrala numita si Fantana lui Bucur are aplicat un mozaic nou care prezinta tema unirii in care se gaseste si dansului horei. Fantanile care sunt apoi aliniate pe mijlocul bulevardului pana la Casa Poporului poarta numele de Fantanile Anotimpurilor. Daca stai langa Fantana lui Bucur si privesti catre Casa Poporului ai deja un tablou ce trebuie imortalizat, fotografiat. Cand va incepe spectacolul iti trebuie camera sau telefonul incarcata ca nu te vei satura sa surprinzi unduirile apei, dansul fantanilor, sincronul acestora. Ele isi schimba rochitele colorate in vazul si aplauzele spectatorilor. Temele muzicale sunt variate si inspirat alese, iar programul selectat pe computer, conduce un show super super super impresionant! Armonia de muzica si lumina pe care picaturile, jeturile sau perdelele de apa danseaza te vor lasa cu gura cascata.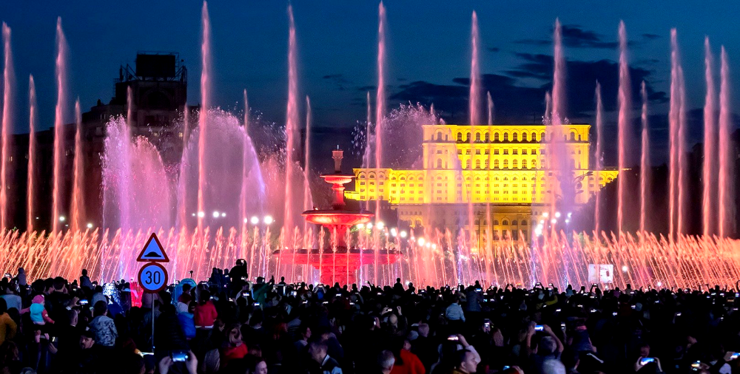 Urban Fountains in Union Square have been recognized, approved and published as the Longest Row of Synchronized Choreographic Fountains in the World, by the World Record Academy. The central fountain, also called Bucur's Fountain, has applied a new mosaic that presents the theme of the union in which the dance of the choir is also found. The fountains that are then lined up in the middle of the boulevard to the People's House are called the Fountains of the Seasons. If you sit near Bucur's Fountain and look at the People's House, you already have a painting that must be immortalized, photographed. When the show starts, you need a loaded camera or phone because you won't get tired of catching the water waves, the dancing of the fountains, their synchrony. They change their colorful dresses in the sight and applause of the spectators. The musical themes are varied and inspired chosen, and the program selected on the computer, leads a super super super impressive show! The harmony of music and the light that the drops, jets or curtains of water dance will leave you speechless
Palatul Parlamentului / The Palace of Parliament
Palatul Parlamentului din București, România (cunoscut înainte de revoluția din 1989 sub numele de Casa Republicii sau Casa Poporului ), măsoară 270 m pe 240 m, 86 m înălțime, și 92 m sub pământ. Are 9 niveluri la suprafață și alte 9 subterane. conform World Records Academy. Palatul Parlamentului este a doua cea mai mare clădire administrativă pentru uz civil ca suprafață din lume, cea mai scumpă clădire administrativă din lume, și cea mai grea clădire din lume. Clădirea Palatului Parlamentului se află situată în partea centrală a Bucureștiului (sector 5), pe locul care astăzi se cheamă Dealul Arsenalului, încadrat de strada Izvor la vest și nord-vest, Bulevardul Națiunile Unite spre nord, Bulevardul Libertății la est și Calea 13 Septembrie la sud. Clădirea are o suprafață desfășurată de 330.000 m², înscriindu-se, după World Records Academy, la capitolul "Clădiri Administrative", pe locul 2 în lume după clădirea Pentagonului, iar din punct de vedere al volumului, cu cei 2.550.000 m³ ai săi, pe locul 3 în lume, după clădirea de asamblare a rachetelor spațiale de la Cape Canaveral din Florida și după piramida lui Quetzalcoatl din Mexic. Pentru comparație se poate menționa că această clădire depășește cu 2% volumul piramidei lui Keops din Egipt, și de aceea unele surse o caracterizează ca pe o construcție "faraonică"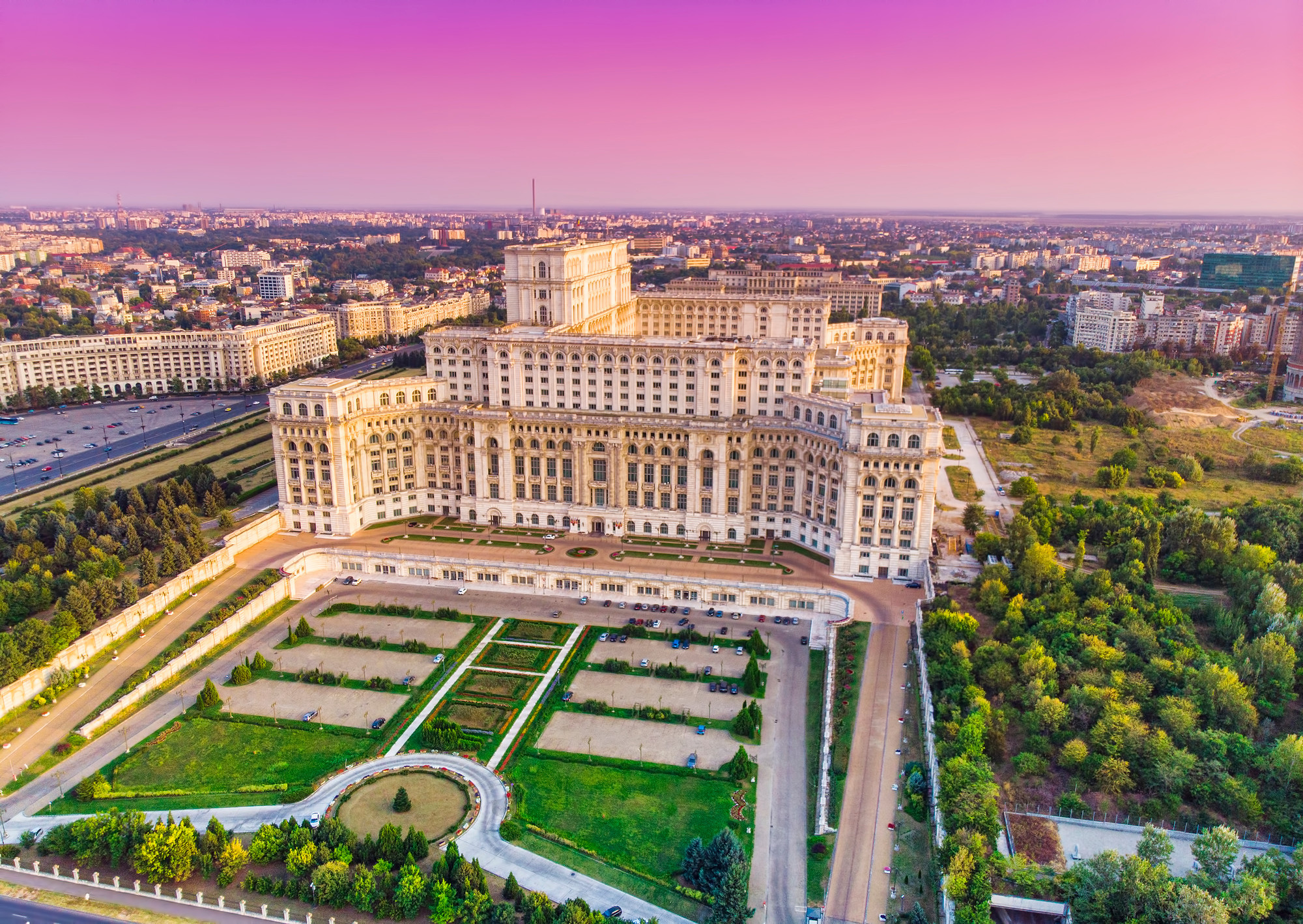 The Palace of Parliament, Bucharest The Palace of Parliament in Bucharest, Romania (known before the 1989 revolution as the House of the Republic or People's House), measures 270 m by 240 m, 86 m high, and 92 m underground. It has 9 levels on the surface and another 9 underground, according to World Records Academy. The Palace of Parliament is the second largest administrative building for civilian use in the world, the most expensive administrative building in the world, and the heaviest building in the world. The Parliament Palace building is located in the central part of Bucharest (sector 5), on the place now called Arsenal Hill, surrounded by Izvor Street to the west and northwest, United Nations Boulevard to the north, Liberty Boulevard to the east and Calea 13 Septembrie to the south. The building has an area of 330,000 m², ranking, according to World Records Academy, in the chapter "Administrative Buildings", on the 2nd place in the world after the Pentagon building, and in terms of volume, with its 2,550,000 m³ , ranked 3rd in the world, after the space rocket assembly building at Cape Canaveral in Florida and after the pyramid of Quetzalcoatl in Mexico. For comparison, it can be mentioned that this building exceeds by 2% the volume of the pyramid of Cheops in Egypt, and therefore some sources characterize it as a "pharaonic" construction.
Centrul istoric / The historic center
Centrul istoric al Bucureștiului reprezintă o zonă centrală a capitalei, cu o suprafață de aproximativ 0,50 km², situată la extremitatea vestică a sectorului 3. Marele Oraș Vechi din București găzduiește fosta curte a lui Vlad Țepeș la Curtea Veche, acum un muzeu în aer liber al ruinelor medievale excavate și Muzeul Național de Istorie a României care prezintă icoane religioase și comori regale într-un fost palat. Magazinele vând vinuri locale și bijuterii cu mărgele, în timp ce restaurantele elegante din clădirile din secolul al XIX-lea servesc mâncăruri tradiționale. Pub-urile și discotecile care atrag atenția atrag mulțimile după lăsarea întunericului.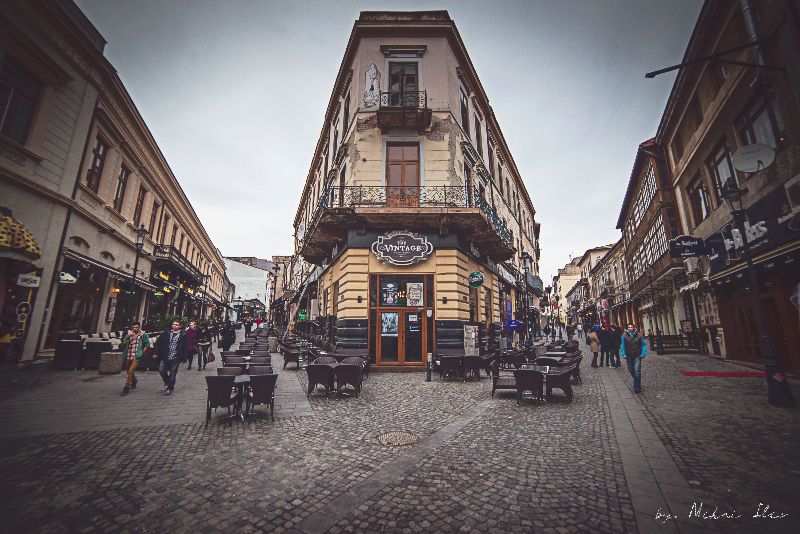 The historic center of Bucharest is a central area of the capital, with an area of about 0.50 km², located at the western end of sector 3. The Great Old Town of Bucharest hosts Vlad Țepeș's former courtyard at Curtea Veche, now an open-air museum free of the excavated medieval ruins and the National Museum of History of Romania which presents religious icons and royal treasures in a former palace. Shops sell local wines and beaded jewelery, while elegant restaurants in 19th-century buildings serve traditional food. Pubs and discos that reign in attention attract crowds after dark.
Arcul de Triumf / The Arch of Triumph
Arcul de Triumf este un monument situat în partea de nord a Bucureștiului, în sectorul 1, la intersecția șoselei Kiseleff cu bulevardele Constantin Prezan, Alexandru Averescu și Alexandru Constantinescu. Monumentul, proiectat de Petre Antonescu, a fost construit în perioada 1921-1922, renovat în perioada 1935-1936, și din nou renovat începând din 2014. El comemorează victoria României în Primul Război Mondial. Împreună cu Catedrala Încoronării din Alba Iulia, cu Mausoleul de la Mărășești, cu Crucea Eroilor Neamului de pe muntele Caraiman, și cu Mormântul Eroului Necunoscut din Parcul Carol I, Arcul de Triumf se numără printre monumentele care comemorează participarea României la Primul Război Mondial de partea Aliaților, la finalul căruia aproape toate teritoriile locuite de români s-au găsit pentru prima dată reunite la un loc. Arcul de Triumf nu este primul monument de acest gen ridicat în capitala României, el fiind precedat de câteva construcții provizorii cu semnificații asemănătoare, care au marcat, succesiv, victoria României în războiul de independență (1878), jubileul celor 40 de ani de domnie ai regelui Carol I (1906) și revenirea familiei regale române din exilul de la Iași (1918).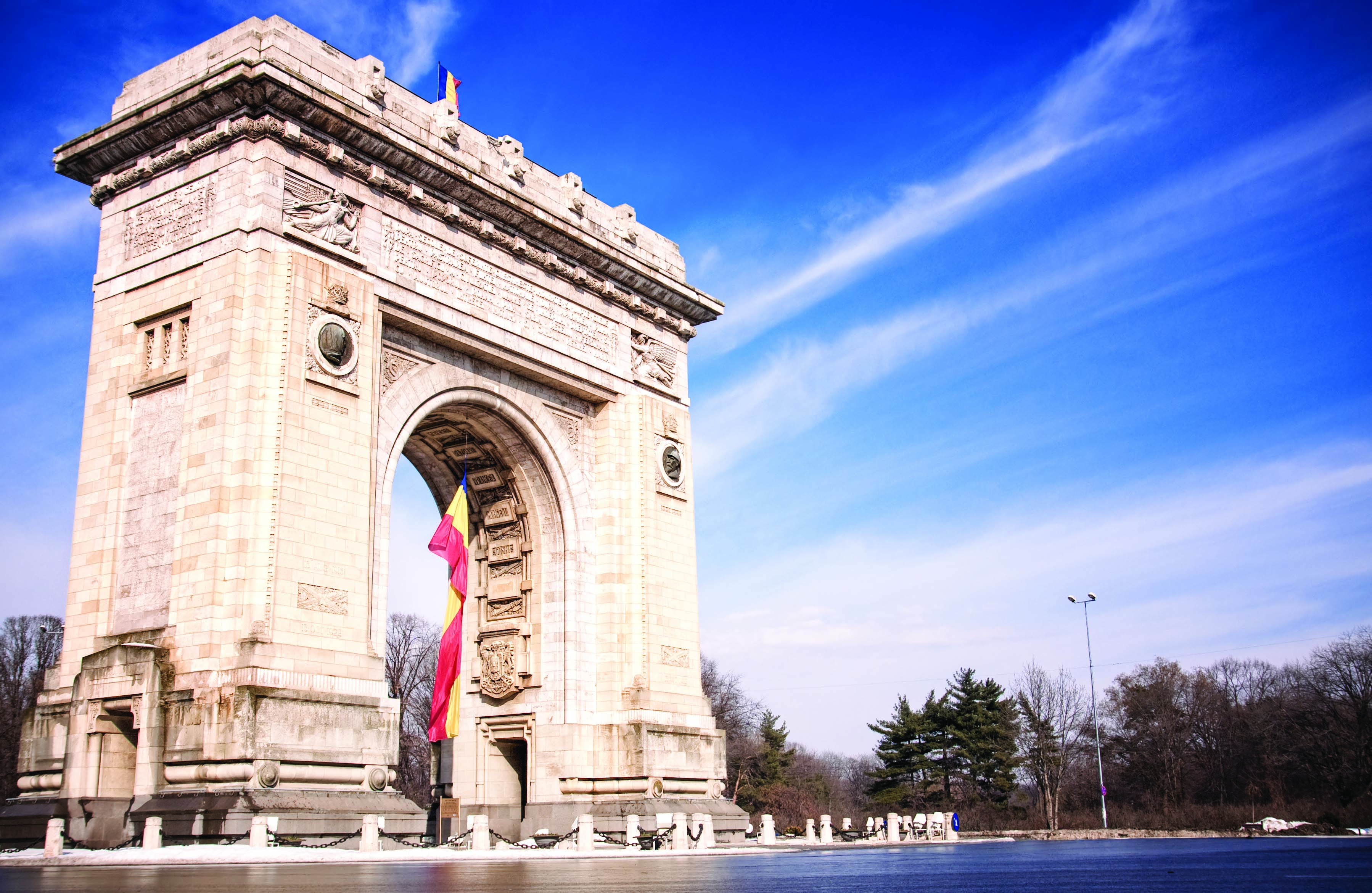 The Arch of Triumph is a monument located in the northern part of Bucharest, in sector 1, at the intersection of Kiseleff Road with Constantin Prezan road, Alexandru Averescu and Alexandru Constantinescu Boulevards. The monument, designed by Petre Antonescu, was built between 1921-1922, renovated between 1935-1936, and renovated again starting in 2014. It commemorates Romania's victory in the First World War. Along with the Coronation Cathedral in Alba Iulia, the Mausoleum of Marasesti, the Cross of the Nation's Heroes on Mount Caraiman, and the Tomb of the Unknown Hero in Carol I Park, The Arc of Triumph is among the monuments commemorating Romania's participation in the First World War alongside The Allies, at the end of which almost all the territories inhabited by Romanians were united for the first time. The Arch of Triumph is not the first monument of this kind built in the Romanian capital, it being preceded by several temporary constructions with similar meanings, which marked, successively, Romania's victory in the war of independence (1878), the jubilee of 40 years of rule King Carol I (1906) and the return of the Romanian royal family from exile in Iași (1918).
Muzeul Național al Țăranului Român / The National Museum of the Romanian Countrymen
Muzeul Național al Țăranului Român este unul dintre cele mai diversificate muzee din familia europeană a Muzeelor de Arte și Tradiții Populare. Este situat în București pe Șoseaua Kiseleff, la numărul 3, lângă Piața Victoriei. Cladirea unde se află actualul muzeu a fost construită în perioada 1912-1941, după planurile arhitectului N. Ghica-Budești. Muzeul Național al Țăranului Român este continuatorul Muzeului de Etnografie, de Artă Națională, Artă Decorativă și Artă Industrială înființat la 13 iulie 1906. Muzeul s-a mai numit Muzeul de Etnografie și Artă Națională, din 1912, Muzeul de Artă Națională, Muzeul de Artă Națională Carol I, din 1915, iar, mai apoi, Muzeul de Artă Populară al Republicii Populare Romîne, respectiv, Muzeul de Artă Populară al Republicii Socialiste România. În 1978, muzeul s-a unit cu Muzeul Satului sub denumirea de Muzeul Satului și de Artă Populară. Muzeul a devenit cunoscut pentru colecțiile sale formate din 100.000 de obiecte. Muzeul deține colecții de ceramică, port popular, țesături pentru interior, lemn, mobile, feronerie, scoarțe. În curtea muzeului dinspre bulevardul Ion Mihalache a fost montată o biserică din lemn, monument istoric din secolul al XVIII-lea, strămutată aici în anul 1992.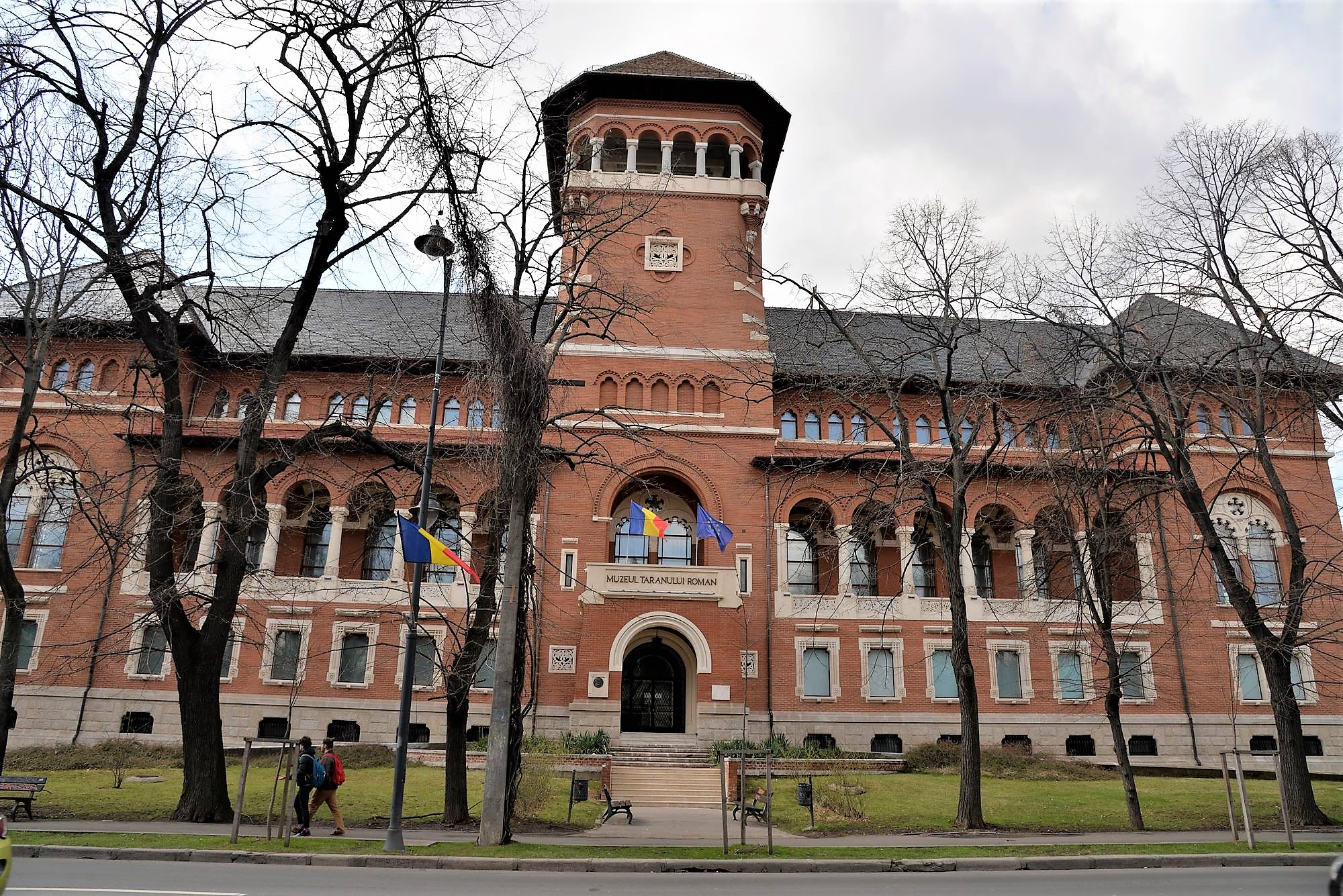 The National Museum of the Romanian Countrymen is one of the most diversified museums in the European family of Museums of Popular Arts and Traditions. It is located in Bucharest on Kiseleff Road, at number 3, near Victoriei Square. The building where the current museum is located was built between 1912-1941, according to the plans of the architect N. Ghica-Budești. The National Museum of the Romanian Countrymen is the successor of the Museum of Ethnography, National Art, Decorative Art and Industrial Art established on July 13, 1906. The museum was also called the Museum of Ethnography and National Art, since 1912, the Museum of National Art, the Museum of National Art Carol I, since 1915, and, later, the Museum of Folk Art of the Romanian People's Republic, respectively, the Museum of Folk Art of the Socialist Republic of Romania. In 1978, the museum merged with the Village Museum under the name of the Village Museum and Folk Art. The museum became known for its collections of 100,000 objects. The museum has collections of ceramics, folk costumes, interior fabrics, wood, furniture, hardware, bark. In the courtyard of the museum from Ion Mihalache Boulevard, a wooden church was erected, a historical monument from the 18th century, moved here in 1992.
Parcul Regele Mihai I / King Michael I Park
Parcul Regele Mihai I, fost parc Herăstrău este un parc mare din partea de nord a Bucureștiului, România, în jurul lacului Herăstrău, unul dintre lacurile formate de râul Colentina. Parcul are o suprafață de aproximativ 187 ha, din care 74 ha este lacul. Inițial, zona era plină de mlaștini, dar acestea au fost drenate între 1930 și 1935, iar parcul a fost deschis în 1936. Parcul este împărțit în două zone: o zonă rustică sau naturală (Muzeul Satului), care este lăsată mai mult sau mai puțin netulburata și un domeniu public / "activ" cu zone deschise pentru activități recreative atat pentru parinti cat si pentru cei mici. Pe lac sunt permise bărci mici.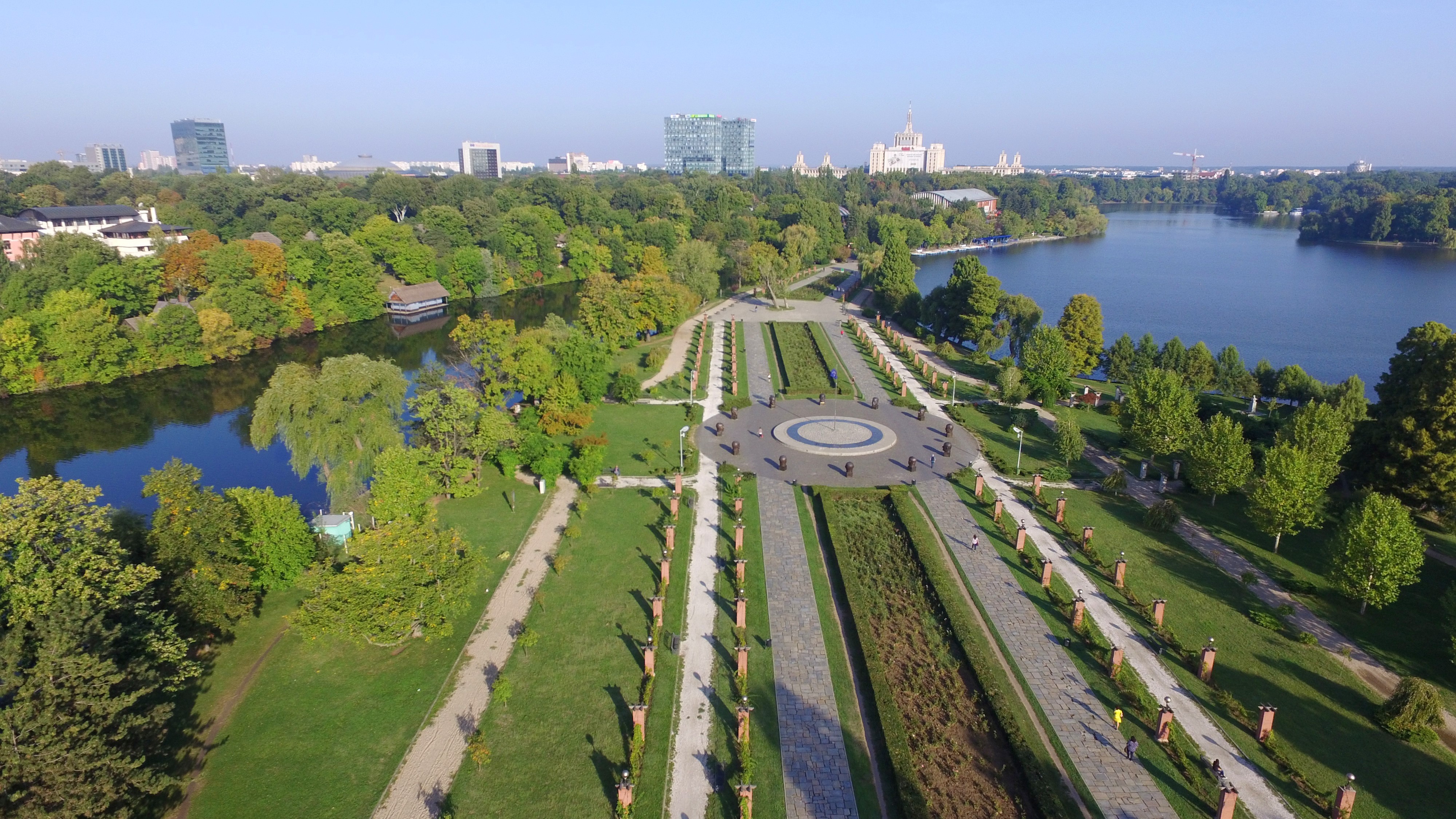 King Michael I Park, formerly Herastrau Park is a large park on the northern side of Bucharest, Romania, around Lake Herăstrău, one of the lakes formed by the Colentina River. The park has an area of about 187 ha, of which 74 ha is the lake. Initially, the area was full of marshes, but these were drained between 1930 and 1935, and the park was opened in 1936. The park is divided into two zones: a rustic or natural zone (the Village Museum), which is left more or less undisturbed, and a public/ 'active' domain with open areas for recreation activities for both parents and children. Small boats are allowed on the lake.
Calea Victoriei / Victory Avenue
Calea Victoriei este una din cele mai importante artere situată în centrul Bucureștiului. Se întinde din Piața Națiunile Unite (de la intersecția cu Splaiul Independenței) până la Piața Victoriei și are o lungime de 2.700 de metri. Calea Victoriei este una din cele mai vechi artere ale Bucureștiului. Înainte de domnia lui Constantin Brâncoveanu, strada nu făcea parte din București, numele ei fiind Drumul Brașovului și era formată doar din bucata dintre Cercul Militar și Piața Victoriei. Porțiunea cuprinsă între Piața Națiunilor Unite (fostă Piața Senatului) și bulevardul Regina Elisabeta era cunoscută în acea vreme sub numele de Ulița Mare spre Sărindar pentru că ducea către biserica Sărindar, aflată pe locul pe care astăzi este Cercul Militar Național. Drumul rezultat din unirea Drumul Brașovului cu Ulița Mare spre Sărindar a fost deschis în anul 1692, de către domnitorul Țării Românești, Constantin Brâncoveanu, sub numele de Podul Mogoșoaiei. Noua arteră devine drumul principal al capitalei, de-a lungul ei construindu-se case boierești, biserici, hanuri, hoteluri, prăvălii, magazine de lux, cafenele și instituții de stat.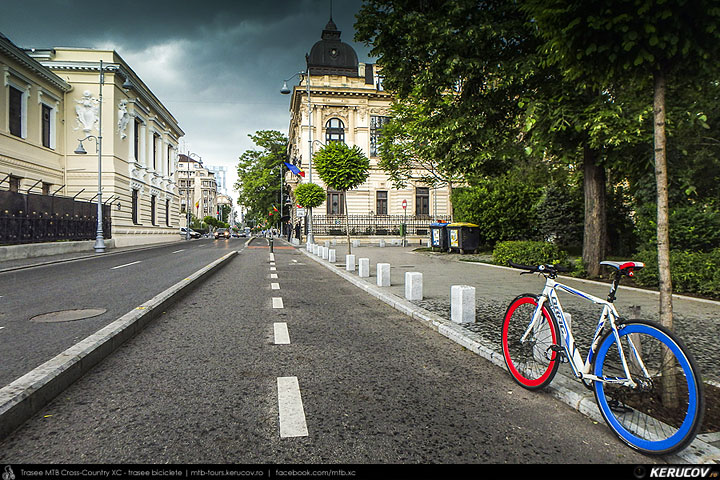 Calea Victoriei is one of the most important arteries located in the center of Bucharest. It stretches from the United Nations Square (from the intersection with Splaiul Independenței) to Victoriei Square and has a length of 2,700 meters. Calea Victoriei is one of the oldest arteries of Bucharest. Before the reign of Constantin Brâncoveanu, the street was not part of Bucharest, its name being Drumul Brașovului (Road of Brasov) and it consisted only of the piece between Cercul Militar (Military Circle) and Piata Victoriei (Victoriei Square) The part between the United Nations Square (former Senate Square) and Regina Elisabeta Boulevard was known at that time as Ulița Mare to Sărindari because it led to the Sărindari Monastery, located on what is now the National Military Circle. The road resulting from the union of the Road of Brașov with Ulița Mare to Sărindar was opened in 1692, by the ruler of Mogoșoaia, Constantin Brâncoveanu, under the name of Mogoșoaiei Bridge. The new artery becomes the main road of the capital, along it are built boyar houses, churches, inns, hotels, shops, luxury shops, cafes and state institutions.
Palatul Victoriei / Victory Palace
Palatul Victoriei este o clădire guvernamentală pe marea Piață a Victoriei din București, găzduind primul ministru al României și cabinetul său. Palatul Victoriei a fost proiectat în 1937 pentru a găzdui Ministerul Afacerilor Externe și aproape finalizat în 1944. A fost proiectat de arhitectul Duiliu Marcu (1885–1966), care proiectase multe clădiri majore în anii 1920 și 1930, inclusiv multe proiecte guvernamentale majore în anii 1930 și 1940. Palatul Victoriei este un design clasic monumental stilizat, cu un nivel arcadat al solului, o colonadă lungă de piloni subțiri pe frontul principal și două etaje superioare încastrate. În urma Revoluției Române, în 1990 a devenit sediul primului guvern al României postcomuniste, rol pe care îl îndeplinește încă, găzduind funcția de prim-ministru al României. Palatul a fost declarat monument istoric în 2004.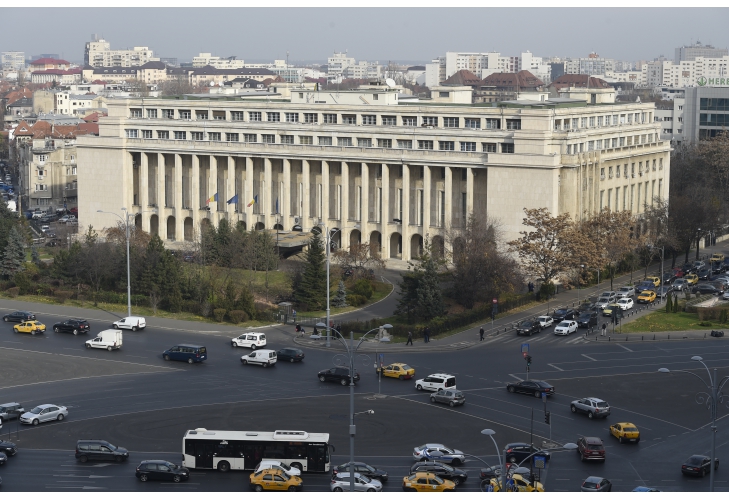 Victory Palace is a government building on the great Victory Square in Bucharest, housing the Prime Minister of Romania and his cabinet. Victory Palace was designed in 1937 to house the Ministry of Foreign Affairs and almost completed in 1944. It was designed by architect Duiliu Marcu (1885–1966), who had designed many major buildings in the 1920s and 1930s, including many major government projects in the 1920s, 1930s and 1940s. Victory Palace is a classically stylized monumental design, with an arched floor level, a long colonnade of thin pillars on the main front and two recessed upper floors. Following the Romanian Revolution, in 1990 it became the seat of the first government of post-communist Romania, a role it still fulfills, hosting the position of Prime Minister of Romania. The palace was declared a historic monument in 2004.